Studio Fit's Commitment To Our Community
The safety and wellbeing of our community is our main priority. It's amazing to finally reopen and welcome back our members, but we plan on doing it the right way and the safe way.
There will be some changes, but our mission is still the same.... To deliver awesome workouts, help inspire members to achieve incredible results, while creating an amazing fitness community.
We're back and even more determined to make Studio Fit better than ever!
Thank you for your continued support.
The Studio Fit Team
---
Here are our FAQ's and Covid-19 Guidelines:
Do you have to book for classes?
Yes, all classes have to be booked in advance using the GymSync app. You can book up to 1 week in advance. This will help us monitor and control numbers and allow us to have a track and trace system in place.
What happens if I forget to book?
Unfortunately, you wont be able to partake in the class if you don't book. This is a government guideline we need to follow due to track and trace.
Are the class numbers limited?
Yes, Cheltenham is limited to 16 and Gloucester is limited to 12. That is well within our legal capacity currently set at 1 person per 100 Sq Ft and will regularly be reassessed.
Are there restrictions on how many classes you can book in a week?
Initially, members can pre-book 2 studio sessions per week. However, additional classes can be booked if there's availability on the day. This will be reviewed on a weekly basis and members informed of any changes.
Is there anything else I need to know about classes?
Please arrive maximum of 5 minutes before class, bring minimal kit into the studio and leave promptly after class to avoid gatherings.
Can I wear gloves?
Yes, but these must be a fresh pair put on once you've entered the studio. If you enter with gloves you will be asked to remove them and put a fresh pair on.
What are your Covid-19 guidelines?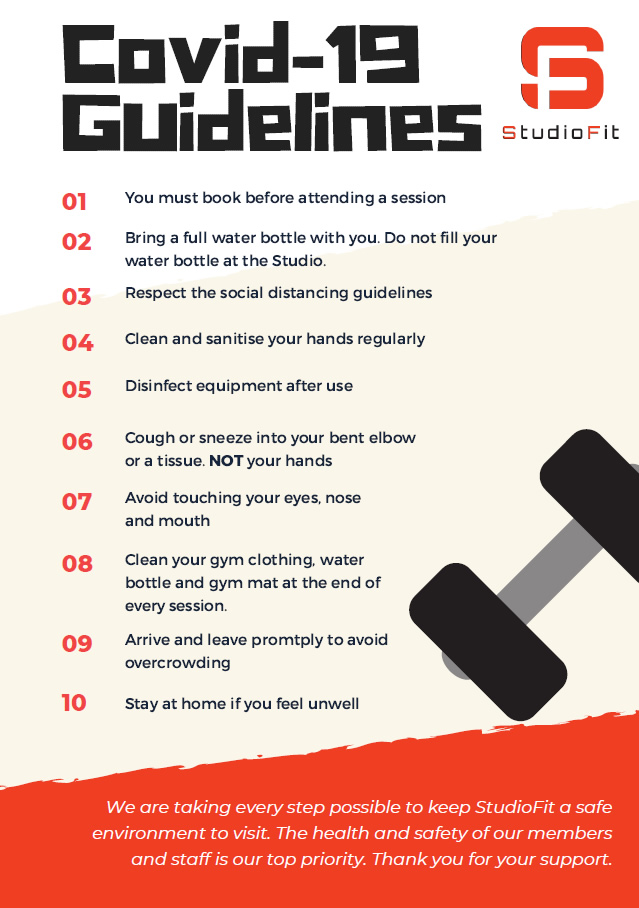 What are your new cleaning procedures?
Cleaning is our number 1 priority. We've installed new cleaning stations and hand sanitisers around the studio. Members will clean equipment after use and staff will follow a strict cleaning rota throughout the day. On top of this, Gloucestershire Cleaners will be doing multiple 'deep cleans' of the Studio every week.
Rest assured we will do everything to ensure the cleanliness of our Studios and that the safety of our community is our main focus. Feel free to ask if you would like to view our cleaning schedule.
Are staff trained?
Our team have all completed industry specific COVID training and fully understand the risk assessment, which has been put in place. If you have any questions or concerns feel free to talk it through with an instructor.
What is your new timetable?
Click here to view our new amended timetable
How will classes be different?
Class numbers will be limited, giving us more floor space, increase ventilation per person and allowing members to follow social distancing rules. Minimal equipment will be used. All classes will be 30 minute express, allowing us a 15-minute change over time between sessions to allow for touch point cleaning.
One thing for sure, sessions will have a great buzz, awesome atmosphere and you'll leave with an amazing workout.
Will the Facebook online live workouts continue?
Yes our instructors will deliver Facebook online live workouts at 8am Mon-Fri for the foreseeable future. Weekend online workouts will be 9am.
Do I have to bring anything to class?
Please bring your own exercise mat and full water bottle this will help to eliminate cross contamination. We will not be able to supply exercise mats. Please do not bring sweat towels to the studio.
How does GymSync work?
GymSync is our class booking system. With a click of a button, you can secure your spot up to 1 week in advance up to the start of a session. Please ensure you cancel your spot if you can't attend, so that it frees up for another member.
Can I use the showers?
Yes, showers can be used. Please inform the instructor you will be taking a shower so that they can be cleaned after use.
Can children come?
Initially members are asked to come alone. This will be regularly reviewed and we will keep our members updated on any changes. We understand Studio Fit is a convenient option for lots of busy parents, so we hope in the near future this will change.
Can I use the changing facilities?
Yes, however we do encourage members to attend and leave the Studio in gym gear.
Is there anything I need to do after a session?
Please leave promptly and avoid congregating at the Studio. Once home ensure you clean your gym clothing, exercise mat and water bottle then be sure to book into your next session via GymSync.
My GymSync app isn't working...
Please email studio-fit@hotmail.com and we can get it sorted for you.
What signage will I expect to see in the Studio?
Please see some example poster below:
What will you do if member has tested positive for COVID-19?
Everyone who attended the studio with that member will be informed and be advised to self isolate for 14 days from the day they were in contact with that person.
I have a few more questions, how can I contact you?
Please email studio-fit@hotmail.com and we'll happily answer any questions you have.
How can I give Studio Fit some suggestions and feedback?
This is a new situation for all of us and we'd happily receive feedback to help us improve.
1 - Email us privately at studio-fit@hotmail.com
OR
2 -Use our 'members feedback book'. This can be found on the front desk of both Studios. No matter how big or small, if you feel we can improve we'd love to hear from you. As always let's keep it positive and for the best of the community.
---
**Members who have underlying health issues or are classed as clinically vulnerable will need to inform a member of staff so that a separate risk assessment can be completed.